When the Nalanda batsmen knocked 298 for 5 wickets and declared their innings immediately after their star performer Pramud Hettiwatte reached his century in the 84th Maroons Battle, they had surpassed the highest total in the series by Nalanda - 290 runs scored in 1954.
Thus they broke a record that had stood the test of time for almost six decades with a splendid batting display, boosted by 4 noteworthy knocks. Opener Woshantha de Silva scoring a quick fire 37, Malinga Amarasinghe scoring a patient 60 runs before Avishka de Silva was partnered by Pramud Hettiwatte in an unbeaten partnership of 167 runs
That partnership is also the highest for Nalanda in this series , eclipsing the 160 run stand between Carl Obaysekeara and Ashley de Silva way back in 1950. Avishka de Silva was 77 not out while Pramud Hettiwatte who stroked the ball to all corners of the field remained unbeaten on 102, with 12 boundaries to his credit, when Nalanda decided to declare with 5 wickets down.
Pramud's innings was a treat to watch as he mixed caution with aggression and helped Nalanda to this record total with his partner Avishka.
When Ananda batted they did not give up the chase easily though they suffered an initial scare early on the second day. Their recovery came through a 98 run stand between Dasun Wijesinghe, who compiled a patient 67 and Danuka Pathirana, their vice captain who decided it was the most opportune moment to show his class with a stylish century.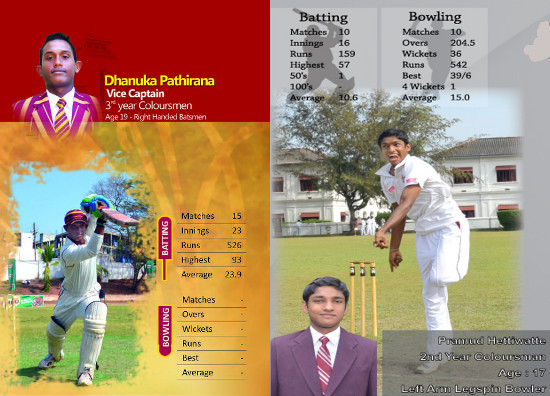 Ananda had another vital partnership which featured the brilliant batting skills of Danuka Pathirana together with his skipper Thushara Samarakoon, who scored 47 runs
Danuka went on to score a superb century - 109 runs with 13 fours and a six, thus making this match only the 4th in the 84 year old series where two batsmen from Ananda and Nalanda had scored centuries.
Ananda reached 301 for 5 wickets at close of play.